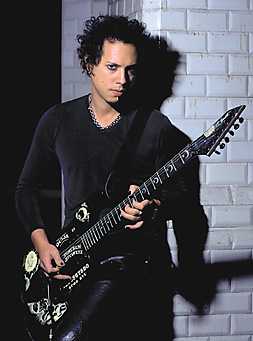 Birthdate: November 18, 1962
Birthplace: San Francisco, CA
Siblings: Older brother, younger sister
Martial Status: Married to Lani Hammett
First Band: Exodus
Tattoos: Two, so far. One says "Made in S.F. 11-18-62" on his stomach, and the other one is hot-rod flames on his hips.
Former jobs: Burger King, warehouse
His House: "I'm a pack rat. I never throw anything away!"
~~~~~~~~~~~~~~~~~~~~~~~~~~~
QUOTES
"Basically I just had to say, 'Screw everyone around me- from now on I'm just gonna play what I think is important to me and our music.' So I gave the big finger to all the current trends in technical wizardry, and just went off and did what I felt was best for the songs." "My guitars are my umbilical cord. They're directly wired into my head."